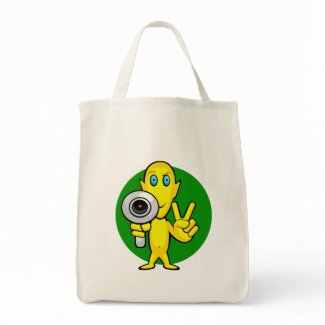 Peace or Die Alien
by
alien_nation
Browse other
Alien Bags
Peace or Die Alien
This alien is holding up the 2 finger peace sign, and pointing a gun at you. Just a bit of an oxymoron. If you love aliens, martians or extra terrestrials then you will love this! This Alien is one of a kind and unique and wants to go home with you today! perfect as a gift for someone special or just to buy for yourself!
Organic Grocery Tote
Save Mother Earth with this environmentally friendly grocery tote made from 100% organic cotton. It's got a wide bottom so it easily fits big groceries or other large items. The material is 12 oz cotton twill and its cotton web handles are reinforced for extra strength. 13"w x 15.5"h x 7"d.