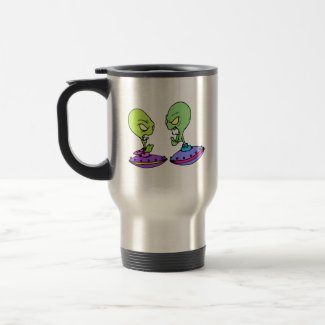 Fighting Aliens in UFOs
by
alien_nation
Browse more
Alien Mugs
Don't spill your coffee over some alien road rage!!
Fighting Aliens in UFOs
These 2 aliens both tried to park int he same spot! now it looks like one is about to punch the other! let's be nice and not crash our flying saucers!.. If you love aliens, martians or extra terrestrials then you will love this! This Alien is one of a kind and unique and wants to go home with you today! perfect as a gift for someone special or just to buy for yourself!
Travel/Commuter Mug
Be in style when you're on the go with our stainless steel travel/commuter mug. This spill-proof commuter mug has a removable plastic top and looks good adorned with your favorite picture or text. Hand wash only. Imported.